How people use these ingredients?
Seven following disease categories had a statistically significant number of areas for reported uses of citrus ingredients: (1) diseases of the blood and blood-forming organs;(2) diseases of the musculoskeletal system and connective tissue;(3) diseases of the respiratory system;(4) diseases of the endocrine systems;(5) nutritional, metabolic diseases and immunity disorders;(6) infectious and parasitic diseases;(7) injury and poisoning; symptoms, signs, and ill-defined conditions.
Recent research has focused on the biological activity of compounds found in citrus species, including compounds called flavanoids, carotenoids and limonoids, especially in terms of their effects on citrus palatability and anti-cancer activity.
Citrus flavonoids have potential antioxidant (prevents aging), anti-cancer, antiviral, anti-inflammatory activities, effects on capillarity, and cholesterol-lowering ability. The principal carotenoids in pink grapefruit are lycopene and beta-carotene. Lycopene-containing fruits and vegetables have been shown to contribute to a significant reduction in prostate and mammary cancer risk.Recent studies have further shown that limonoids inhibit the development of cancer in laboratory animals and in human breast cancer cells as well as reducing cholesterol.
And essential oil from citrus peels are largely used in food industry as a flavor and fragrance.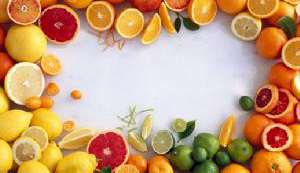 Different citrus fruits
Warning:
Above information is only knowledge,not an instruction of usage for this product. The owner of this webiste should not be responsible for any damage because of misuse of the product.